Prof. Dr. Harald Hungenberg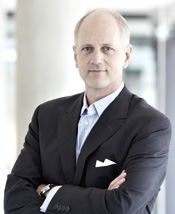 Professor Dr. Harald Hungenberg has held the Chair of Corporate Management at the Friedrich-Alexander University of Erlangen-Nuremberg since 1999. At the same time, he is a Visiting Professor at various international universities and Scientific Director of the Institute for Corporate Planning – IUP (Berlin) – a "think tank" supported by major German companies such as Bertelsmann, Daimler, Deutsche Bank, Siemens, ThyssenKrupp and others.
Professor Hungenberg has extensive experience in working with companies and managers. He works as a consultant and lecturer, primarily in the areas of strategic management, innovation and change. He teaches management programs at numerous companies; he is also a member of Duke University's Global Learning Resource Network. The results of his research are documented in over 100 books and articles. Professor Hungenberg is a member of international institutions such as the Strategic Management Society and the Academy of Management, and he serves as a reviewer for renowned national and international journals.
Prior to working in Nuremberg, Professor Hungenberg spent four years at the Leipzig Graduate School of Management (HHL), where he held the Chair of Strategic Management and Organization. He also worked for several years as a management consultant for McKinsey & Company, Inc. Professor Hungenberg pursued business administration at the Massachusetts Institute of Technology – M.I.T. (USA) and the University of Giessen, where he also completed his doctorate and habilitation.