Bloom Partners GmbH: Internship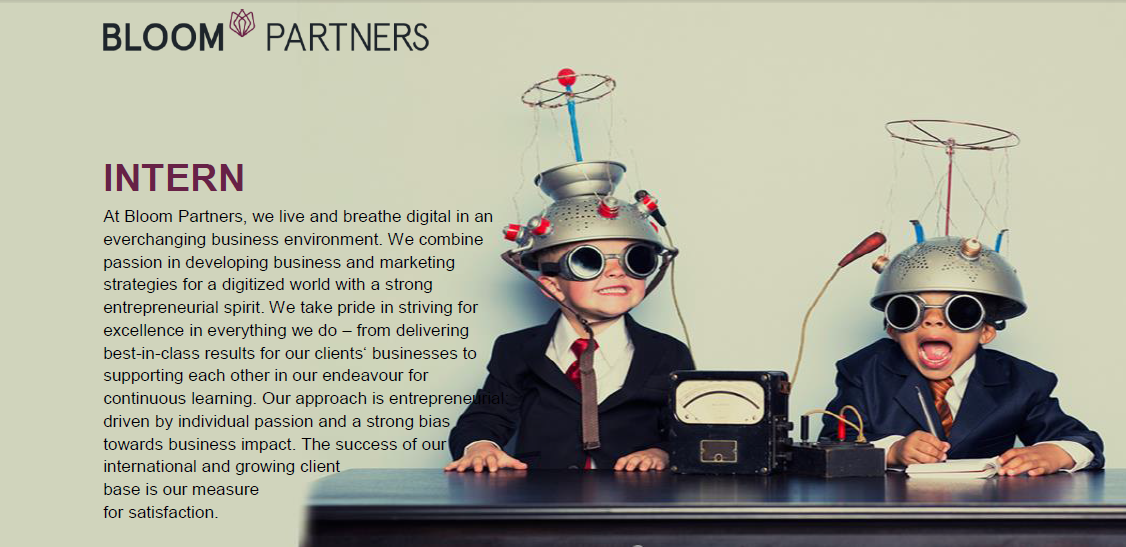 INTERNSHIP AT BLOOM PARTNERS GmbH 
We are looking for smart and highly engaged students with a passion for digital marketing, strategic thinking and entrepreneurship to join us as interns at Bloom Partners.
ABOUT US
At Bloom Partners, we live and breathe digital in an everchanging business environment. We combine passion in developing business and marketing strategies for a digitized world with a strong entrepreneurial spirit. We take pride in striving for excellence in everything we do – from delivering best-in-class results for our clients' businesses to supporting each other in our endeavour for continuous learning. Our approach is entrepreneurial: driven by individual passion and a strong bias towards business impact. The success of our international and growing client
base is our measure for satisfaction.
YOUR CAREER AT BLOOM PARTNERS
At Bloom Partners you will take over responsibility from day one. You will work in our vibrant team dynamic by driving to shape the future environments of our cross-industry clients. You will grow and get inspired by the following key roles:
Be fully integrated in our team and drive advanced qualitative and quantitative analyses around (digital) consumer, market and technology trends for leading global brands;
Present results and support in creating client presentations and workshops;
Promote team efficiency and effectiveness by performing operative and strategic tasks;
Support driving Business Development for convincing potential new clients;
Learn from and contribute to our bi-monthly Bloom Academy sessions
YOUR PROFILE
You think digital is more than just a Website, Facebook or Twitter, you are currently enrolled at a University and you are fluent in German and English. Ideally you have already gained experience in consulting, start-ups or in a similar environment with a focus on digital and/or marketing. In line with our values at Bloom Partners, you are an excellent fit for us if you combine the following traits:
Intellectual curiosity for digital topics – interested in digital business models, strategies and technology
Highly analytical and deadline-driven mind-set
Independent, structured and result-oriented approach, as well as a positive can-do attitude
Highly engaged, team-oriented and excellent communication skills
Knowledge of PowerPoint and Excel
WE ARE EXCITED TO HEAR FROM YOU!
Contact: Bloom Partners GmbH · Prannerstr. 11 · 80333 Munich · Germany · Phone +49 89 124 1395 0 · info@bloom-partners.com
www.bloom-partners.com · Managing Director Dr. Markus Pfeiffer